Gophers Earn 6-1 Win Over Pro-Alumni
Feb. 4, 2012
Photo Gallery
The Golden Gophers defeated the alumni in Minnesota's 18th annual Pro-Alumni & Legends Game today at the Metrodome. The Gophers won by a score of 6-1 on 13 hits to the Pro-Alumni's one run and eight hits. More than 25 Minnesota baseball alums were on the field or in the dugout for the event.
The Gophers started the scoring with two runs in the fourth inning off of DJ Snelten, who took the loss. Matt Puhl led off with a single and then stole second base to get things started. Troy Larson drove him home with a single to center. He later scored on a single by Kurt Schlangen. Minnesota added a run to its lead the next inning when a single from Bobby Juan scored Puhl, who reached on a walk.
The alumni avoided a shutout by putting a run on the board in the ninth. Current Gopher Matt Halloran, subbing in for the alumni, walked and scored on an error after a single by Justin Gominsky.
The bottom of the ninth was played despite the 3-1 lead for the home team. Minnesota used that inning to add three runs to its lead and seal the win. After Ethan Liederman was hit by a pitch, Dan Olinger connected and had a RBI single up the middle. After Tony Skjefte walked, Olinger advanced to third when he tagged on a fly out to center. Jake Bergren drove in Olinger, while JT Canakes also had an RBI to put it at the 6-1 final. Tom Windle is credited with the win, while Alex Tukey got the save.
Troy Larson led the Gophers by going 3-for-3 with an RBI. Schlangen and Olinger had two hits apiece. Gominsky, Jack Hannahan and Ben Pattee each had two hits for the pro-alumni.
With the Minnesota pitching for both the Gophers and the alumni, nine saw action today. TJ Oakes started for the Gophers and pitched 3.2 innings, facing 11 batters and three hits. Austin Lubinsky started for the alumni and faced eight batters and allowed two hits. Also pitching for the Gophers was Windle (2.1 innings pitched), Dustin Klabunde (2.0 innings pitched and a game-high four strikeouts) and Tukey. Along with Lubinsky for the alumni, Snelten also pitched (1.2 innings). Kevin Kray (1.1), Kyle O'Shea (2.0), Drew Ghelfi (1.2) and Tukey (0.1).
Minnesota will have next weekend off to prepare for the Big Ten/Big East Challenge, Feb. 17-19. Minnesota starts the season against Louisville at 10 a.m. on Feb. 17 in Clearwater, Fla. Minnesota will then face St. John's (NY) on Feb. 18 and follow up with South Florida on Feb. 19.
Notes: Attending today's game from the alumni was Glen Perkins (Minnesota Twins-2006-present), Jack Hannahan (current team Cleveland Indians) and John Gaub (Chicago Cubs) from the Major Leagues. Also playing was Michael Kvasnicka (Houston Astros-A), Nate Hanson (Minnesota Twins - AA), AJ Pettersen (Minnesota Twins - Elizabethton), Dan Lyons (Long Island Ducks-Atlantic League), Justin Gominsky (Houston Astros-Tri-City), Ben Pattee (Minnesota Twins-AA, 2005), Tony Leseman (2003-06), Luke Appert (2000-03) and Sam Steidl (2001-04). Also participating in the events were J.T. Bruett (Minnesota Twins, 1992-93), Brian Raabe (Minnesota Twins - 1995-97; Seattle - 1997; Colorado 1997), Dan Wilson (Cincinnati, 1992-93; Seattle 1994-2005), current Kansas City Royals announcer Ryan Lefebvre (1990-93), Kerry Ligtenberg (Atlanta 1997-98; 2000-02; Baltimore, 2003; Toronto, 2004-05; Florida, 2006), Jim Brower (Cleveland, 1999-2000; Cincinnati, 2001; Montreal, 2002; San Francisco, 2003-05; Baltimore, 2006, New York (AL) 2007), Cole DeVries (Minnesota Twins - AAA), Reid Mahon (Arizona - AA, 2010), Seth Rosin (San Francisco-A) and Scott Matyas (Detroit Tigers-Gulf Coast League).
Hall of Famer Paul Molitor served as the manager for the Pro-Alumni Team. Former Major Leaguer Greg Olson (Minnesota - 1989; Atlanta 1990-93) and former Gopher great Mark Merila (1991-94) were a part of the Pro-Alumni coaching staff.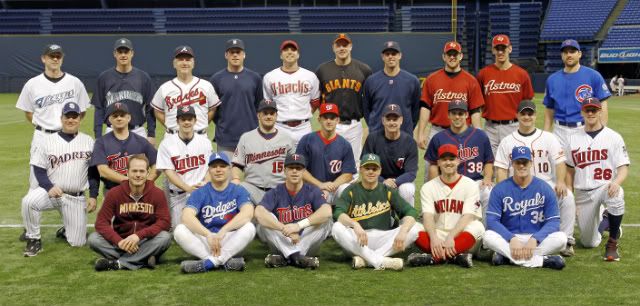 MORE HEADLINES
ABCA/Rawlings Name Three Gophers All-Americans
6/16/2018 - Baseball
The last of the major organizations to name Division I All-Americans tabbed three Gophers as All-Americans in 2018.
PerfectGame Tabs Gophers as Freshmen All-Americans
6/14/2018 - Baseball
PerfectGame became the latest organization to honor Patrick Fredrickson and Max Meyer as Freshman All-Americans
Three More All-America Picks for Vavra
6/13/2018 - Baseball
Minnesota's trio of All-Americans each earned more awards on Wednesday, with Terrin Vavra now holding the title of four-time All-America pick.
Get daily updates delivered to your inbox!